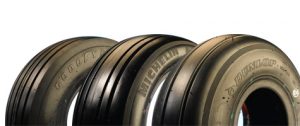 The role of the Distributor in the supply chain is to ensure the end user has ready access to the product at a reasonable cost with no minimum order quantity required for purchase. The distributor brings together the ability to stock vast quantities and dispatch in small quantities enabling both the manufacturer and end user to operate effectively and economically.
Rivandell Aviation applies this specifically to aircraft tyres and tubes providing a single source of supply for all makes with an independent viewpoint and providing competitive pricing as a result of our enormous buying power channeled exclusively into tyres and tubes.
This dedication to aircraft tyres and tubes over the past 5 years has been formally recognized by the leading manufacturers in the appointment of Rivandell Aviation as their authorized distributor.
In addition to the distributorships for Michelin, Goodyear, Dunlop, Condor and McCreary, Rivandell Aviation also stock a vast range of other makes including Bridgestone, Mitas, Stomil, yaroslavi,Barnaul Tyre and Aero Classic, as well as commercial alternatives used on Homebuilds and Gliders.